Geospatial Media and Communications, the leading media agency in Geospatial sector, today conferred its annual Geospatial World Awards to 19 organisations from the domain and it's end-user agencies for developing innovative geospatial tools...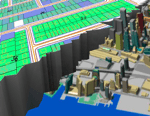 Thursday, April 7th, 2011
Today, Bentley released a repackaged and retooled lineup of Bentley Map V8i products. The new three-tiered offering of Bentley Map products simplifies the product offering and adds a number of new features and improved workflows from desktop...
Tuesday, December 21st, 2010
ERDAS proudly announces the official release of ERDAS® 2011 Software, including ERDAS IMAGINE®, LPS, ERDAS APOLLO, ERDAS Extensions for ArcGIS® 10 and other leading desktop and server products. Portfolio-wide changes for the ERDAS 2011 Software Release include...