Thursday, September 5th, 2013
The New Zealand Institute of Surveyors (NZIS) recently announced that Jeffrey Alan Needham has taken over the Presidency of the Institute from 29 August 2013. Jeff takes over from Andrew Stirling who has held the post the...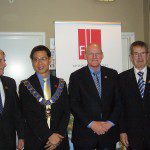 Saturday, December 18th, 2010
I am deeply humbled and honoured to wear this chain of office as I stand before all of you today. The immensity and weight of this responsibility are not loss on me. It is a responsibility and stewardship that...