Friday, March 3rd, 2017
SAN FRANCISCO —  Mapbox, the leading real-time location and mapping platform for developers, today announced Roy Ng ( photo) has been appointed President and Chief Operating Officer (COO). As President and COO, Ng will have responsibility for...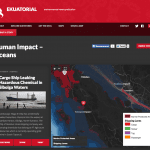 Thursday, February 6th, 2014
Journalists continue to embrace mapping and online technologeis to report local news to a global audience within context. The Ekuatorial site launches in Indonesia as a partnership with the Society of Indonesian Environmental Journalists.
Thursday, May 23rd, 2013
Over a four-week period earlier this year, we invited about 30 cyclists, researchers, cartographers and geospatial specialists to come into our offices at Media House in Melbourne for a very special experiment: a hackathon that lasted four...