Thursday, November 3rd, 2016
REDLANDS, Calif. - Global smart-mapping leader Esri today announced that telecom executive Randy Frantz will be featured at the Internet of Things West conference on November 3, 2016, in Las Vegas. Internet of Things West is an...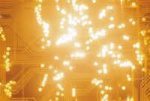 Friday, September 16th, 2011
The Internet of Things holds great promise with more objects and systems interconnected and available for query and data collection through Internet connectivity. IBM is leading the way with much of this development in a smarter city...