Wednesday, May 28th, 2014
Singapore Land Authority's (SLA) vision to create a World's Best Practice 3D Map is underway. SLA has long held detailed geospatial layers of Singapore, but these are soon to be extended into the third dimension.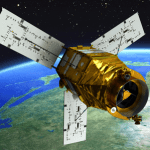 Monday, July 22nd, 2013
ScanEx RDC Research and Development Center officially became the distributor of the KOMPSAT data series in Russia and the CIS countries (Ukraine, Belarus, Moldova, Kazakhstan, Uzbekistan, Kyrgyzstan, Turkmenistan, Armenia and Azerbaijan) at the end of June...
Monday, February 4th, 2013
DigitalGlobe, Inc. (NYSE: DGI) ("DigitalGlobe") today announced that its previously planned satellite construction program related to its third WorldView-class satellite remains on track.
Thursday, December 8th, 2011
In a world-first. Australian-based spatial content company, nearmap.com, has completed a capture of 5,000 square kilometres of high resolution PhotoMaps over Australia's economic engine room in Western Australia's north-west.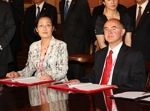 Thursday, June 30th, 2011
The UK-based satellite imagery provider DMCii, along with parent company and satellite builder Surrey Satellite Technology Ltd., will build and deploy a constellation of three earth observation satellites for Beijing-based company Twenty First Century Aerospace Technology Company...