Thursday, April 7th, 2016
Heerbrugg, Switzerland —Leica Geosystems, industry leader in measuring technology, has released, a smart, flexible antenna for all GNSS monitoring applications. Professionals of critical projects have an affordable, high quality device, customisable to fit all of their project...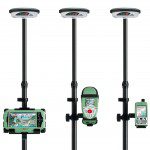 Thursday, September 27th, 2012
Leica Geosystems is pleased to announce a further enhancement to the Leica Zeno GIS family. The Leica Zeno GG03 is an upgradable GNSS SmartAntenna for organizations that require a compact and lightweight device for accurate and...