Friday, February 6th, 2015
BRISBANE, Australia, Feb. 4, 2015—Continuing its strategy of evolving to deliver innovative solutions to clients around Australia, Jensen Bowers Group has acquired Geoimage Pty Ltd. The combination of the two companies and...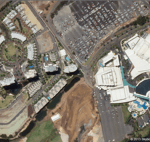 Thursday, February 13th, 2014
Skybox Imaging, a Silicon Valley-based commercial imaging startup, has successfully launched its first one-meter imaging and video capture satellite SkySat-1 with samples available on their website and via YouTube. The company has big plans to launch a...
Tuesday, October 8th, 2013
DigitalGlobe is excited to share that we are seeing increased momentum for our business across the Asia Pacific region, which includes Australia, New Zealand, New Guinea and Thailand. We were recently awarded several major contracts and started...
Tuesday, November 1st, 2011
Geoimage is thrilled to announce that they have cemented the relationship with PASCO Corporation, the Japanese distributor of ALOS satellite imagery, by signing up as the only authorised reseller of this popular, high resolution and low cost...
Thursday, October 6th, 2011
Geoimage has great pleasure in announcing the appointment of five new staff members to our ever growing company. As Geoimage is expanding in terms of our products offered, the geographies that we now reach and the market...