Tuesday, June 14th, 2016
BEIJING -  China's first high orbit remote sensing satellite, Gaofen-4, went into use after six months of in-orbit testing, the State Administration of Science, Technology and Industry for National Defense (SASTIND) announced Monday. Read More at Shanghai...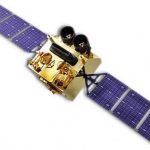 Monday, June 13th, 2016
China's Gaofen-4 high-orbit remote sensing satellite is now in operation after a six-month testing period. The satellite was launched in December of 2015 as the first high-orbit (36,000 kilometers) installment of the Gaofen series. The low Earth orbit counterparts can...