Tuesday, June 28th, 2016
Redlands, California —Esri will give all customers that have a qualifying product with a current maintenance subscription unlimited access to free self-paced e-Learning through its new Training website, Esri president Jack Dangermond announced today. "Esri encourages lifelong...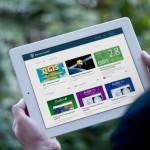 Thursday, June 18th, 2015
MangoMap and the Canada Centre for Mapping and Earth Observation join Discover Spatial to release the first FREE QGIS and remote sensing courses on our geospatial eLearning platform! The QGIS course is for beginners in the software,...