Wednesday, October 19th, 2011
GeoEye, Inc. announced it signed a multi-year enterprise agreement with Google Inc. to license access to Google Earth Builder, Google's cloud-based map publishing platform. GeoEye is making this investment as part of its strategy to increase online...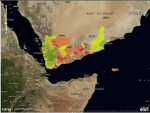 Friday, April 29th, 2011
The move to cloud-hosted Geographic Information Systems seems to be on in full force following announcements made at last week's Where 2.0 Conference, hosted by O'Reilly Media. The event saw the debut of Google Earth Builder from...