climate change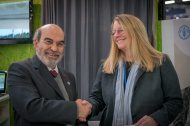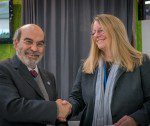 Thursday, December 3rd, 2015
PARIS, Dec. 1, 2015—Google Maps and FAO have agreed to work closely together to make geospatial tracking and mapping products more accessible, providing a high-technology assist to countries tackling climate change and much greater capacity to experts...
Tuesday, January 10th, 2012
Fire is integral component of environmental systems throughout the world, including the Himalayas. Understanding fire patterns is...
Sunday, December 18th, 2011
Clients have named SKM Enviros the Best Consultancy in three categories at the 2011 Edie Awards for Environmental Excellence, our best performance at the Edie Awards to date. The prestigious awards are a showcase for the leading consultancies...
Monday, June 6th, 2011
Australia and Germany provided US$63.7 million to the extended Climate Change and Coastal Ecosystems Program (CCCEP) in Vietnam. The funds will be used to restore mangrove forests, build advanced sea dikes and educate coastal residents about sustainable cultivation...
Sunday, May 8th, 2011
Proper implementation of zoning ordinances, comprehensive land use plans that are resistant to climate change and disaster, as well as protected environmental resources are among the essential factors for sustainable development , as highlighted during the 3rd...
Friday, April 8th, 2011
The IGES Natural Resources Management (NRM) Group conducts strategic policy research, capacity building activities and outreach to contribute to the management, protection and enhancement of natural resources in the Asia-Pacific region. As part of the NRM Group, the Forest Conservation...
Wednesday, December 22nd, 2010
ESA's 2009 global land cover map has been released and is now available to the public online from the 'GlobCover' website. GlobCover 2009 proves the sharpest possible global land cover map can be created within a year. The...
Sunday, December 5th, 2010
The Indian Space Research Organisation (ISRO), on the sidelines of the visit of French President Nicolas Sarkozy, announced the renewal of a five-year contract with European space firm EADS Astrium to build commercial satellites to be launched...
Tuesday, December 23rd, 2008
The National Research Foundation has launched the Africa Centre for Climate and Earth System Science (ACCESS), hosted at the Council for Scientific and Industrial Research (CSIR) in South Africa. CSIR researcher and ACCESS supervisor Neville Sweijd says...
Saturday, June 16th, 2007
The UN's Intergovernmental Panel on Climate Change issued a new report last week. It was the third in a series of four planned reports. The latest document says it is possible to reduce greenhouse gas...