Tuesday, January 16th, 2018
On Jan. 12, 2018, India's Polar Satellite Launch Vehicle (PSLV-C40), in its 42nd flight, successfully launched from the Satish Dhawan Space Centre the 710-kilogram Cartosat-2 satellite for Earth observation as well as 30 co-passenger satellites. The co-passenger...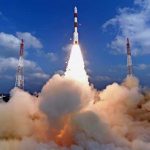 Tuesday, February 21st, 2017
On Feb. 15, 2017, India's space agency (ISRO) successfully launched a record 104 satellites on a single rocket; this is the highest number of satellites ever launched in a single mission. The Polar Satellite Launch Vehicle PSLV-C37...