Thursday, October 24th, 2013
The end of October will see Virtalis shipping the widely anticipated GeoVisionary Version 2.0. GeoVisionary was developed by Virtalis in collaboration with the British Geological Survey (BGS) as specialist software for high-resolution visualisation of spatial data.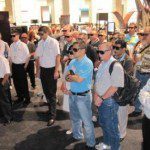 Thursday, February 28th, 2013
Virtalis, Thames Technology and the British Geological Survey are presenting GeoVisionary on Booths E03 & E04 at the Asia Mining Congress (AMC) on 12th-15th March, at the Marina Bay Sands Convention Centre, Singapore.
Tuesday, September 4th, 2012
The British Geological Survey (BGS) is to use a state of the art laser scanner to map volcanoes, glaciers and other natural phenomena. The RIEGL VZ-1000 purchased from 3D Laser Mapping will be used around the world...