DAYTON, Ohio (Dec. 17, 2019) — Woolpert has been selected to perform aerial mapping and surveying via manned aircraft and unmanned aircraft systems (UAS) for two global mining operations under two separate contracts.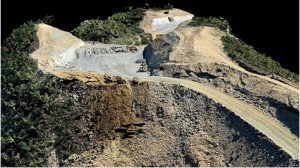 The imagery is being collected to assist in volumetric calculations, provide digital terrain information for autonomous hauling trucks, enable change detection analysis and validate the locations of drill holes for blasting, while providing a safer, more frequent and accurate accounting of mining progress.
Woolpert UAS Technology Manager and Program Director Aaron Lawrence said UAS is the most appropriate tool for the safe and effective collection of spatial data, used alone or in concert with traditional survey technologies and manned aircraft data collection, within this often difficult, unstable and dangerous environment.
"Mines and their materials are in constant flux due to the nature of the business, and they are subject to the elements year-round," Lawrence said. "A heavy rain event, for example, requires a site evaluation to ensure that the site is safe for operation. This often means reinforcement of haul roads, pumping of water and re-stabilization of vertical structures."
UAS provides critical and precise measurements for all the complex surfaces in a mine, from oblique imagery to inspect the composition and structural integrity of its vertical walls to the survey data collected to assess pre- and post-blast estimates.
Lawrence said the ability to deploy UAS, both on scheduled flights and in response to immediate needs, aligns with the operational needs of mines across the country.
"Mines are a lot like our coastal environments," he said. "They have stability, erosion and flooding problems. It's all about identifying issues and marrying them with the right technologies to produce solutions. UAS is the right technology to cost-effectively manage a mining operation."
The mining companies under contract are not named here due to competitive and industry sensitivity. These contracts are underway.
About Woolpert
Woolpert is committed to a vision to become the premier architecture, engineering and geospatial (AEG) firm, and one of the best companies in the country. It's a vision we've been fine-tuning for decades. It guides our decisions and investments, provides our clients with optimal solutions and offers our employees unrivaled opportunities. Woolpert is recognized as a Great Place to Work by its employees and is America's fastest-growing AEG firm. With more than a century of experience, close to 1,000 employees and 30 offices, Woolpert supports public, private, federal, and U.S. military clients nationally and around the globe. For more information, visit woolpert.com and connect with us on LinkedIn, Twitter and Facebook