The rankings have been prepared by commercial drone market research and analytics company Drone Industry Insights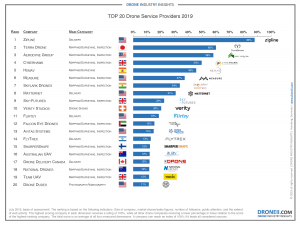 Commercial drone market research and analytics company Drone Industry Insights has released its 2019 rankings of the world's leading drone service providers, and Terra Drone Corporation has moved up to the second place on the list. In 2018, Japan-based Terra Drone was at the ninth position.
Drone Industry Insights recognizes that this envious feat has been made possible with Terra Drone's rapid growth in a variety of industries and geographical regions. "They've done this successfully by opening up local subsidiaries in both European markets and growing ones like India (i.e. Terra Drone India)," the report says. In the last few months alone, Terra Drone has expanded to major geographies like North America, the Middle East, Africa, and Latin America. Today, the company is present in more than 25 countries across the world and continues to partner with cutting-edge drone technology providers.
The DII report also notes that mapping, surveying, and inspection are the application methods most commonly employed by leading drone service providers – all of which are Terra Drone's forte. The industries where Terra Drone is delivering unmatched efficiencies using drones include oil and gas, power, mining, agriculture, GIS, urban planning, renewables, and more.
For instance, the company's European arm has recently completed an oil rig platform survey and 3D modeling for oil and gas major Shell. In Brazil, Terra Drone was the first company in the country to use drones for unmanned FPSO tank inspections for state-owned Petrobras. In Indonesia, Terra Drone was the first to use drone-mounted LiDAR technology for creating disaster recovery maps. Whereas, in India, Terra Drone has helped a state government to discover a water revenue leak to the tune of 400% in the last few months.
With more than 25 group companies already in its network, Terra Drone takes pride in collaborating with cutting-edge drone technology providers. If you also want to support Terra Drone on its quest to generate aerial innovations that have a lasting impact on communities the world over, please contact [email protected]
For more information about the company's activities, achievements, and news, follow Terra Drone on LinkedIn and Twitter
About Terra Drone Corporation 
Established in 2016, Terra Drone Corporation has quickly become one of the world's largest industrial drone solution companies employing over 500 drone industry professionals. The company's head office is located in Tokyo, Japan, and more than 25 branches are spread globally throughout Asia, Europe, South America, Africa, and Oceania. Terra Drone provides innovative enterprise drone services for oil and gas, utilities, renewables, mining, construction, and GIS sectors, among others.
Terra Drone provides end-to-end solutions specializing in each sector by using high-performance hardware, cutting-edge software and customizable drone traffic management systems (UTM). The company actively invests in UAV technology providers to help them promote their products and services in the global market.