Held by Global Spatial Data Infrastructure Association (GSDI) and Ministry of the Interior (MOI), Taiwan, the 15th GSDI World Conference came to an end on December 2nd. Knowing the importance of spatial data infrastructure, Supergeo was willing to attend the exhibition and show the infinite possibilities of applying spatial data from the very beginning.
As the biggest geospatial consulting group and GIS software provider in Taiwan, Supergeo has implemented some of the most important national GIS projects for the government, such as Taiwan Geospatial One-Stop (TGOS) portal and the Statistical Map API. Powered by SuperGIS Server and SuperGIS 3D Earth Server, these two great web-based GIS applications won awards from both international and national organizations. Therefore, in GSDI 15th conference, Supergeo not only introduced its state-of-the-art GIS software but also demonstrated the successful applications accomplished by the project team. Many GIS professionals from various countries, like Vietnam, Singapore, Ukraine, Philippines, etc., are amazed by the great results and wished to implement similar platform in their countries. On the other hand, numerous experts and companies also expressed their interests in the practical, fully-functional, and affordable SuperGIS software.
By face to face discussing with geospatial specialists from the world, Supergeo Product Team has received many valuable suggestions and also learned the latest technological progress in geospatial industry and wishing to put these new ideas and standards into the upcoming products.
For knowing more about TGOS portal and SuperGIS Server, please visit:
http://www.supergeotek.com/Library_2_201512.aspx
Or contact us directly:
[email protected]
Learn more about the new features of SuperGIS Desktop 10:
http://www.supergeotek.com/LandingPage_SGD10.aspx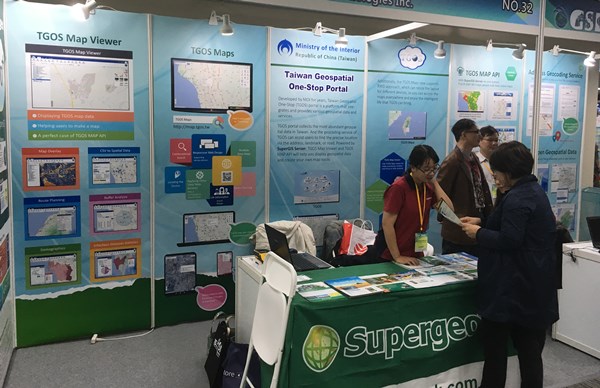 The staff was explaining the advantages of SuperGIS products.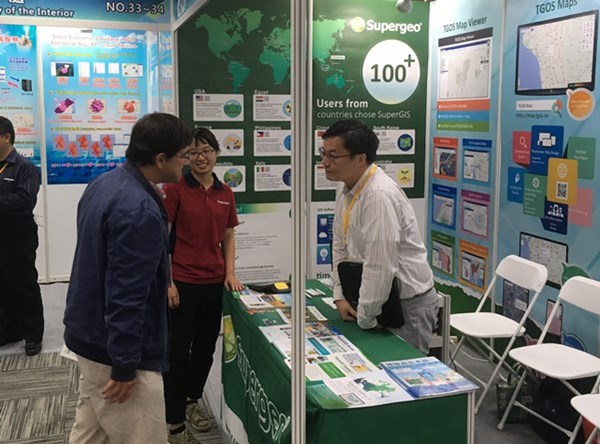 The staff was explaining the TGOS portal for a Belgian geospatial expert.