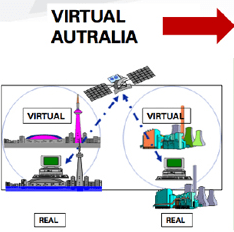 If we talk about spatial data infrastructure as an end-goal it is pretty much impossible for people outside the spatial industry to get excited about it. A recent Australian submission for government funding for an SDI was knocked back because it wasn't classed as 'real infrastructure'. But if you present SDI as a means to an end, perhaps you have more chance. Michael Haines of Westgate Ports thinks so, and he is garnering support for a project called Virtual Australia, which is a means to yet another end: improved containerised freight flows into and out of the Port of Melbourne.
The Metropolitan Freight Terminal Network (MFTN) is a large scale infrastructure project being promoted by the Victorian State Government. Westgate Ports has already invested over $100 million in it. However, the scope of the task is well beyond any single entity. It involves infrastructure builders, councils, asset managers, transport companies, trade unions and many government departments; many stakeholders with varying degrees of understanding of the technology that is required to build and operate a 'dedicated freight network using 21st Century technology'.
Haines, who previously worked at Toyota, thought it would be possible to simulate the entire network using the same software and approaches used by the motor vehicle companies. "Car companies directly engage suppliers in the design of their parts, machines, production lines, factories and vehicles first in 'virtual space'… before anything is constructed in the real world. I want a place where we can conceive, design, cost, communicate and approve all future development, from a single house renovation to major infrastructure, in much less time, at much less cost and with much better outcomes than is possible using traditional methods" he explains.
In the 19th Century, each Australian colony created its own railway with different gauges resulting in chaos when they met at the borders. Haines faces a far more complex problem. "The data required to build the model is held by many different stakeholders… or it simply does not exist at present. Parts that do exist are not 'inter-operable'." That said, the tools such as GPS networks to 2cm accuracy do already exist to economically deliver the required level of accuracy and photo-realism, as well as the necessary security and privacy protections.
So what is needed to make it happen? "We have to know what is to be made, understand the main activities and develop the processes required to integrate all activities", says Haines.
Step One is to bring key industry players together in a one-day 'Summit' on Virtual Australia on 8 December 2010. Apart from representatives from the Cooperative Research Centre for Spatial Information (CRC) and Victorian Government Spatial Infrastructure Department, other organizations attending the day will be: Autodesk, Delmia (Toyota's simulation supplier), IBM and other 'spatial' related service providers, as well as several of the State Shadow Cabinet, State and Federal Heads of Department, VicRoads, City West Water, Asciano, GHD, Abigroup. Add to that Officers from the City of Greater Dandenong and other Local Government representatives several key Research Organizations and Universities, plus representatives from Gas and Power companies, Emergency Services, Police and Defence, together with Architects, Town Planners and major Developers… plus Telstra and the NBN company… representatives from most of the key stakeholder groups who can provide the hardware, software and data… as well as major users of 'Virtual Australia'.
Step Two is a presentation to State and Shadow cabinets, and key Federal Government and Opposition Ministers seeking support to establish the 'organization capability' required to drive the creation of Virtual Australia.
Virtual Australia will have a 'market-driven' architecture. Rather than being single piece of software or a single enormous database, it will work more like the 'transactional' software market where products such as SAP, Maximas, in-house systems and Customs and AQIS work together via EDI links. It will be built in the same way as the real world… bit by bit… as more and more buildings and pieces of infrastructure are added into VA, and as the inter-connections between databases are made. This will be aided by a move to require all new buildings and additions to be submitted for town planning approval as 3D models.
"We are looking for each person and organisation to contribute their data to the model, but with very strong safeguards", Haines explains. Unlike Google Earth', VA will have strong security… so that a person can only get access to the parts they can access in the real world. For that purpose, we will have key people from the Data Security industry, as well as the Privacy Commissioner in attendance.
"I believe that in a decade Virtual Australia will be the most important piece of infrastructure for a Knowledge Based Economy in the 21st. Century" says Haines.
You can view a video presentation by Michael Haines that describes the concept.
——————————————————
Jose Diacono is a Vector1 Media columnist and spatial media specialist based in Australia (www.communica.com.au).