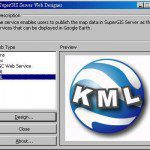 Tuesday, May 31st, 2011
SuperGeo Technologies announced that SuperGIS Server 3 supports KML (Keyhole Markup Language) map service publishing and assists enterprises in improving map sharing and display performance.
Tuesday, May 31st, 2011
Agency9, the leading provider of web based 3D solutions, today released their cloud service CityPlanner 2.0 internationally. Agency9 CityPlanner is a web service that empowers project managers, planners and architects to visualise and interact with 3D models...