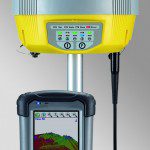 Tuesday, October 4th, 2011
A new member of GeoMax's complete and...
Saturday, October 1st, 2011
ERDAS proudly announces the release of ECW for ArcGIS Server, version 11.0.2. This product provides a means for ArcGIS Server to deliver data in the ERDAS-patented Enhanced Compression Wavelet (ECW) format to clients via OGC-compliant Web Coverage...
Friday, September 30th, 2011
Leica Geosystems announces the new xRTK and SmartRTK for Leica Viva GNSS. Leica xRTK is a new RTK solution that provides maximum availability even in the most difficult conditions. Leica SmartRTK delivers reliable, consistent results in all RTK Networks and...
Thursday, September 29th, 2011
Holistic City Software has released CityCAD 2.2 with a new data import engine and improved 2d drawings, as well as several new features and further improvements in stability and performance. The new data import feature is a key...
Thursday, September 29th, 2011
Urban Robotics Inc., provider of cutting edge software and hardware solutions for Intelligence, Surveillance and Reconnaissance (ISR), Remote Sensing and Geospatial applications, announces the release of their unparalleled Dense 3D Extraction technology, offering a...
Wednesday, September 28th, 2011
Topcon Positioning Systems' (TPS) new Imaging Station – the IS-3 – takes the industry's longest scanning range and increases it by almost 20 percent to 6,500 feet. In addition to its "dramatic increase in non-prism scanning range,"...
Wednesday, September 28th, 2011
The Leica GR25 GNSS Reference Server is more than just a reference receiver. With integrated internal and external device management, multi-user management, high end security, modular and scalable design, the GR25 GNSS Reference Server will grow with...
Wednesday, September 28th, 2011
Optech Incorporated, the world's leading manufacturer of advanced lidar and camera survey instruments, is pleased to announce a new lightweight, state-of-the-art mounting platform for its Lynx Mobile Mapper. The newly designed rack features rigid mounting points and...