Today Leica Geosystems announces the new Leica GeoAce RTK base station. The product provides access to Leica Geosystems patented Virtual Wrench, the Agriculture industry's first web based remote service, support and diagnostics tool. With the...
Saturday, July 21st, 2012
Geneq Inc. is pleased to announce the SXBlue II GNSS, a revolutionary GNSS receiver that uses both GPS and GLONASS with SBAS (WAAS/EGNOS/MSAS/GAGAN) to attain 30cm/1 ft (RMS) accuracy in real-time using free SBAS corrections. It connects...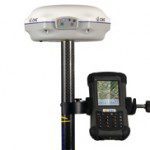 Wednesday, July 11th, 2012
CHC today announced the availability of X900+ GNSS receiver (pronounced "X900 Plus") bringing the future proof GNSS tracking technology to surveyors without the conventional cost associated with GNSS solutions. The X900+ GNSS combines advanced 120-channel GNSS technology...
Tuesday, July 3rd, 2012
STONEX Europe launches the new S7 series GPS/GNSS receivers that combine the modern positioning technology and versatility of a powerful handheld, perfect for collecting geographic data and the realization of fast and accurate measurements.