Hardware
Monday, October 7th, 2013
Topcon Positioning Group announces a new technology – Hybrid Positioning – that increases efficiencies and improves productivity on job sites, regardless of conditions, terrain or location. Hybrid Positioning is enabled through the Topcon MAGNET software suite, a...
Monday, October 7th, 2013
Optech, the world leader in the development, manufacture and support of advanced lidar and camera survey instruments, is pleased to announce the latest addition to its innovative line of airborne laser terrain mappers (ALTM), the Optech Orion...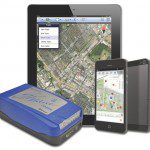 Thursday, October 3rd, 2013
Geneq Inc. is pleased to announce the iSXBlue II GNSS, the world's first sub-meter GNSS receiver that is Bluetooth-compatible with Apple iPads and iPhones.
Thursday, October 3rd, 2013
Today, Hemisphere GNSS introduces the Eclipse P306 and P307, the latest models in the Eclipse series. The Eclipse P306 and P307 track multi-frequency GPS, GLONASS, and BeiDou satellite signals and are Galileo and QZSS ready. By tracking...
Tuesday, October 1st, 2013
Today, Hemisphere GNSS announced an all-new series of rugged mobile handheld devices with application software options to support Survey, GIS, and Mapping professionals. GeoMapper handhelds are designed to work in harsh outdoor environments and features an intuitive...
Monday, September 30th, 2013
Optech announces the upcoming release of the Gexcel Open Pit Mine Monitoring System (OPMMS) for the Optech ILRIS Terrestrial Laser Scanner. Incorporating the combined expertise of Optech and Gexcel Srl, an Italian software solutions company, ILRIS users...
Monday, September 30th, 2013
HP today announced the HP Designjet T2500 eMultifunction Printer (eMFP), which brings new customer-driven design features to a single, compact device that scans, prints and copies to help highly mobile teams work together better and faster.
Monday, September 23rd, 2013
With its recent Ingress Protection (IP) certification, the Leica Zeno GG03 SmartAntenna is the only IP68 certified SmartAntenna for GIS applications. IP68 represents the top rating for protection against dust, moisture and water. Meeting the...
Monday, September 23rd, 2013
Blue Sky Network, a principal supplier of satellite tracking and communication solutions for aviation, land and marine, today announced the launch of the HawkEye 7200 portable M2M tracking solution. The HawkEye 7200 includes features such as multi-national...