Tuesday, February 4th, 2014
LizardTech, a provider of software solutions for managing and distributing geospatial content, announced the launch of Express Server 9 software. Express Server is the leading image-delivery software for compressed raster imagery, including multispectral imagery. It uses patented...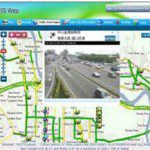 Tuesday, December 21st, 2010
SuperGeo Technologies, the leading global provider of complete GIS software and solutions, has released a white paper of SuperGIS Server 3 website performance testing report. In this white paper, the method and the procedure of the test...