Monday, May 19th, 2014
The Open Geospatial Consortium (OGC®) Membership seeks organizations and individuals to participate in the development of the next major version of the OGC City Geography Markup Language (CityGML). See the Call for Participation at http://www.opengeospatial.org/standards/requests/119.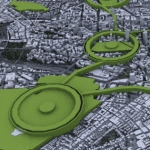 Friday, February 22nd, 2013
A new not-for-profit called VANZI Ltd. has been set up to broker the framework for a fully integrated and secure 3D computer model for both the natural and built environment in both countries. The idea...