Thursday, October 20th, 2011
Carlson SurvCE is a complete data collection system for Real Time (RTK) GPS and Total Stations with in-field coordinate geometry. SurvCE, which combines advanced functionality, ease-of-use, and robust capability to make it the first choice in data...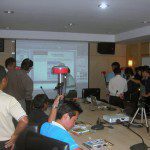 Tuesday, August 16th, 2011
The Pentax SMT888-3G high-end technology market represents a new generation of Pentax products. Users rely on their SMT888-3G quality as compared to similar products with a competitive price. Pentax product sales in the domestic and foreign market...