Tuesday, April 8th, 2014
ZEB1 the world's first truly mobile, hand held, rapid laser mapping system has been proven to outperform traditional terrestrial laser scanning during field tests in Chile. Supplied by 3D Laser Mapping and operated by Santiago based GEOCOM,...
Thursday, March 6th, 2014
The highly accurate and efficient iCON grade iGD4SP dozer solution calculates the lift, angle, and tilt of the dozer's six way blade. It allows operators to angle their blade while iCON grade's advanced hydraulic control system automatically...
Thursday, November 24th, 2011
PoliScanspeed is a LIDAR speed enforcement solution that is in use in many countries worldwide, among these numerous countries in the Middle East region. Successful speed enforcement with VITRONIC technology is conducted in Saudi Arabia, Qatar and...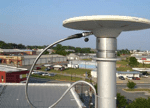 Thursday, February 17th, 2011
Geospatial professionals use real time GNSS networks (RTN) because they provide quick precision that saves on more labor-intensive processes while yielding high precision coordinates. Standard GNSS receivers compare the signal being sent...
Tuesday, June 15th, 2010
The government of Singapore has invested more than $700 million on broadband Internet infrastructure to provide blazing-fast speeds of 1,000 megabits per second by 2012. It has also laid out an e-government masterplan...