Thursday, August 7th, 2014
Supergeo Technologies, a leading global provider of GIS software and solutions, officially launches SuperGIS Spatial Statistical Analyst 3.2 with powerful functions and optimization of interface for worldwide users.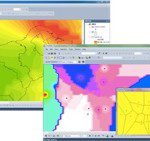 Thursday, February 7th, 2013
The Newest SuperGIS Spatial Statistical Analyst 3 developed by Supergeo enhances manipulation interface and analysis functions to perform more sophisticated tasks.
Functioning as one of SuperGIS Desktop analysis extensions, SuperGIS Spatial Statistical Analyst 3 integrates geostatistical analysis...
Monday, June 27th, 2011
NTT DOCOMO, INC. announced today that two recently completed research projects conducted jointly with Japanese universities have demonstrated that mobile spatial statistics, or population statistics compiled from data used to provide mobile services, can provide useful information...