Tuesday, November 4th, 2014
LAS VEGAS, Nov. 3, 2014—Trimble (NASDAQ: TRMB) introduced the latest version of its smart water infrastructure mapping and work management cloud software—Trimble® Connect™ for Water version 1.9. The latest release of the Geographic...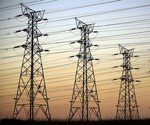 Thursday, October 6th, 2011
The combination of systems and sensors to manage utility infrastructure is taking hold around the world in the form of smart grid for electric transmission and distribution, and smart water for water and sewer networks. The move...