Tuesday, December 3rd, 2013
Wichmann VDE publishing house, Germany, selected Intergraph SG&I as the 2013 Innovation Award winner for best product. Competing with seven other vendors, Intergraph SG&I was nominated by an independent jury of five geospatial scientists and selected by...
Thursday, February 28th, 2013
SGI (Nasdaq:SGI),the trusted leader in technical computing, today announced that DownUnder GeoSolutions has selected SGI to provide upgraded highperformance computing (HPC) infrastructure to accelerate results for its customers in the global oil and gas industry.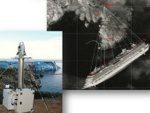 Wednesday, February 8th, 2012
The Hexagon year-end report for 2011 just came out, and there is a recorded webinar with slides and an overview from Ola Rollen, president and CEO, that is available online. Overall, the year was a good...