Sunday, August 4th, 2013
The government on Friday introduced the Singapore Geospatial Scholarship, the first of its kind in Singapore. Senior Minister of State for Law and Education, Indranee Rajah, said the scholarship underscores the importance of Geospatial Information Systems and...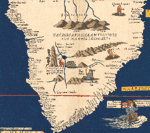 Tuesday, July 26th, 2011
The continued advancement of Geographic Information Systems, with a depth of data related to physical locations and the ability to analyze events over both space and time, have given rise to the exploration of history. These capabilities...