Sunday, March 30th, 2014
Providing support for multiple satellite positioning systems with a single module, ALPS has developed the UMSZ2 Series multi GNSS module for automotive applications.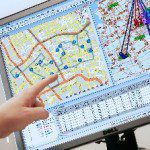 Tuesday, June 18th, 2013
Paragon Software Systems has launched national street level mapping for routing vehicles in mainland China. This breakthrough follows Paragon's recent announcement about implementing simplified Chinese into its software last autumn. The mapping allows users of the Paragon...