Sunday, June 14th, 2015
Karnataka Chief Minister Siddaramaiah inaugurated the new Karnataka State Remote Sensing Applications Centre (KSRSAC) facility on Thursday at Doddabettahalli. The facility named as "Doora Samvedi Bhavana" can accommodate 200 scientists and administrative staff. Read more via Zee News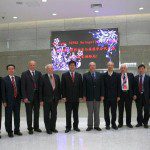 Thursday, December 15th, 2011
The Geospatial Information Research Center opened this week in Beijing via a partnership between the Chinese Academy of Surveying and Mapping and the U.K. University of Nottingham. The research center will focus on navigation, global positioning, photogrammetry...
Wednesday, December 7th, 2011
Mipela GeoSolutions is opening a new office in Melbourne on Monday 9th January 2012. This is in line with one of the company's "Twenty14 Strategic Plan" key objectives of expanding geographical presence. The Melbourne office has been opened to...