Wednesday, September 18th, 2013
Trimble (NASDAQ: TRMB) announced today a Preview version of its CenterPoint™ RTX™ post-processing service, enabling GNSS observations using available Galileo and BeiDou Middle Earth Orbit (MEO) satellites. Powered by Trimble® RTX technology, the free CenterPoint RTX post-processing...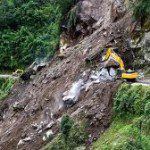 Friday, August 30th, 2013
A team of scientists from the GFZ German Research Center for Geosciences have developed a new means to monitor shear waves on the Earth's surface. The direct observation of subducting continental crust by modeling the landform and...
Friday, July 26th, 2013
Arianespace have launched another two satellites - Alphasat and Insat-3D – via their Ariane 5 ECA rocket. Launch from the European Spaceport in Kourou, French Guiana was on schedule at the opening of its 79 minute window at...
Tuesday, December 11th, 2012
The International Space Station (ISS) was recently the jumping-off place for a group of satellites, thanks to the Japan Aerospace and Exploration Agency (JAXA). The recent launch from the ISS involved five CubeSats. Each one is just four...
Thursday, September 13th, 2012
Japan's Marubeni Aerospace Corp. has been conducting a feasibility study for the Myanmar government this year on the satellite launch, a company official said. If the launch goes ahead, the satellite will be used by the meteorology and...
Monday, April 11th, 2011
GGOS is the Observing System of the International Association of Geodesy (IAG). GGOS works with the IAG components to provide the geodetic infrastructure necessary for monitoring the Earth system and for global change research. The GGOS Portal will...
Thursday, June 17th, 2010
Government agencies around the world are investing in earth observation data from commercial satellite providers for defense and security purposes in an effort to avoid the high capital cost of building their own...