Monday, September 8th, 2014
Can one make a career in cartography? Yes, says Professor Jagannathan, HOD, Geography, Madras University. "Students have to learn cartographic grammar and do laboratory work to get high-level skills in digital-mapping including web maps." Basic qualifications needed...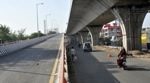 Thursday, January 27th, 2011
The exploding growth that is evident throughout Asia is a major change in all aspects of infrastructure creation and management. The rapid improvements evident across the region often have started with the creation of an accurate...