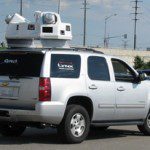 Tuesday, June 18th, 2013
Optech announces the imminent release of the Lynx SG1 Mobile Mapper (Survey Grade), which replaces the Lynx M1 as the flagship model of Optech's mobile product line. Lynx SG1, a 600-kHz dual sensor head system, raises the...
Wednesday, June 5th, 2013
Optech, the world leader in the development, manufacture and support of advanced lidar and camera survey instruments, is pleased to announce the release of its Lynx MG1 (Mapping Grade) Mobile Mapper. The Lynx MG1 has been designed...