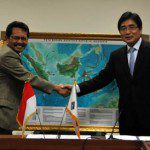 Wednesday, May 22nd, 2013
The northern coast of Java is important for the Indonesian people, with the north coast road forming the lifeblood of transportation on the island. Improved road infrastructure and growing manufacturing centers along the coast, are making the...
Tuesday, December 11th, 2012
The International Space Station (ISS) was recently the jumping-off place for a group of satellites, thanks to the Japan Aerospace and Exploration Agency (JAXA). The recent launch from the ISS involved five CubeSats. Each one is just four...