Monday, July 1st, 2013
Chartered land surveyors and geospatial engineers Coastway Ltd announced their partnership with Versadrones, innovators in unmanned aerial vehicles, as part of the expansion of their aerial surveys and inspection service in Ireland, the UK and overseas.
Monday, November 19th, 2012
The Dublin Institute of Technology (DIT) recently conferred the award of Honorary Doctorate on Ireland native Ray O'Connor, president and CEO of Topcon Positioning Systems (TPS), a global leader in precision measurement instruments. The award was conferred in...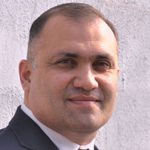 Thursday, December 23rd, 2010
India-based RMSI Private Limited recently delivered on phase two of Ireland's Property Registration Authority as one of several contractors on this large-scale land registry modernization effort. V1 editor Matt Ball connected with Vikrant...