Friday, July 25th, 2014
Graziers up against one of nature's smartest hunters may now be able to enlist a new age in Unmanned Aerial Vehicle technology to help them combat the threat of wild dogs. Sydney businessman Marcus Ehrlich has put...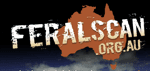 Thursday, May 5th, 2011
You've certainly heard of the invasive problem with rabbits in Australia, but did you also know that camels, foxes, pigs, myna birds and wild dogs are also a huge problem? Each year these invasive species cause dramatic...