Wednesday, September 30th, 2015
Richmond, BC, Canada—MDA's Information Systems group has released two new RADARSAT-2 imaging modes for commercial use. These modes are designed specifically for maritime monitoring and will enhance the capabilities of the RADARSAT-2 satellite: The Ship Detection mode....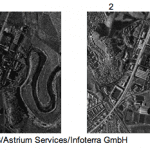 Wednesday, October 9th, 2013
Astrium, Europe's leading space technology company, has launched two new TerraSAR-X imaging modes. The enhanced imaging capabilities facilitate the delivery of higher resolution imagery as well as the coverage of larger areas.