Wednesday, January 20th, 2016
Kreuztal, January 20, 2016 — IGI launches the new AEROoffice & TERRAoffice software in version 5.4.50.  This new AEROoffice & TERRAoffice version can do coverage maps for scanning sensors. But there is more. For example, the sensor footprint...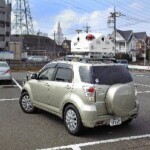 Thursday, October 25th, 2012
Japan has recently taken delivery of its sixth mobile laser mapping system from 3D Laser Mapping. StreetMapper, the world's most accurate mobile laser mapping system, uses vehicle mounted sensors to achieve highly accurate measurements while travelling at...