Tuesday, September 23rd, 2014
The project of modeling the Great Wall of China in 3D was officially launched on Sept. 16, 2014. It will be supervised by China's Ministry of Culture and State Administration of Cultural Heritage and funded by China...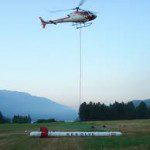 Thursday, November 28th, 2013
The Central Ground Water Board (CGWB) has recently launched a helicopter-borne electromagnetic survey in Patna for accurate and comprehensive assessment of groundwater resources of the district. A helicopter will collect important data of the subsurface geology and...