Tuesday, September 30th, 2014
India's Telangana State government and Greater Hyderabad Municipal Corporation (GHMC) are co-publishing a new print edition of the world's first manifesto promoting urban benefits of the Global Earth Observation System of Systems (GEOSS) project.
Wednesday, August 21st, 2013
Global science organisations have produced the world's first comprehensive report on moves to create a networked environmental monitoring system, using Google-era technologies to help manage the Earth's resources.The Group on Earth Observations...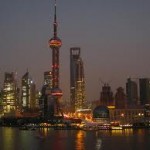 Thursday, August 15th, 2013
China has been hard at work building digital city models since 2006. To date, more than 470 digital models have been created, with oversight from the National Administration of Surveying, Mapping and Geoinformation. This foundation of digital...