Friday, January 31st, 2014
Singapore-MIT Alliance for Research and Technology (Smart) and National University of Singapore have jointly developed "SCOT" - a driverless car that will operates autonomously. SCOT stands for Shared Computer Operated Transport. The driverless car can seat four...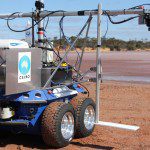 Thursday, September 26th, 2013
A prototype autonomous vehicle, or rover, developed by CSIRO is helping scientists improve the accuracy of Earth observation satellites that provide valuable data to our mining and agricultural industries. Just as the Mars Rover Curiosity is gathering...