Thursday, May 10th, 2012
China shows earth observation prowess with two successful launches this week. Is this email not displaying correctly?View it in your browser. Vol. 7, Issue 18, May 11, 2012 China Launches Two Earth Observation Satellites in Four...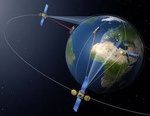 Friday, April 20th, 2012
Friday, April 20, 2012 Astrium's SpaceDataHighway Promises Imagery Anywhere in Minutes Astrium, in partnership with the European Space Agency (ESA), is working to build a satellite communication system to speed the delivery of high resolution imagery anywhere...