Thursday, April 21st, 2011
The CS650 reflectometer, a new multiparameter smart sensor for use in soils and other porous media, is now available. The CS650 measures dielectric permittivity, bulk electrical conductivity (EC), and soil temperature and uses these measurements to estimate...
Wednesday, April 20th, 2011
Now remote sensing scientists working in the field have a choice between the standard FieldSpec HandHeld 2 and the FieldSpec HandHeld 2 Pro model spectroradiometers from ASD Inc. The Pro model provides greater sensitivity in low reflectance...
Wednesday, April 20th, 2011
Paradigm has integrated the 3D multiple point statistics simulation module based on Ephesia's IMPALA algorithm in the latest version of Paradigm™ SKUA. This module complements the large selection of geostatistical and analytical capabilities of the SKUA Reservoir...
Tuesday, April 19th, 2011
UNESCO has developed a "National Database for Pakistan's Cultural Assets" to safe guard, conserve and preserve the cultural and natural heritage of NWFP.The database is a Geographical Information System (GIS) compatible database in which contribution was made...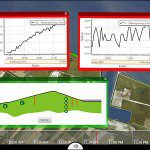 Tuesday, April 19th, 2011
Coastal countries and municipalities are reinforcing their protective walls by building higher and higher dikes, but the problem is usually not their height. The dikes are simply too weak. An early warning system whose data can be...