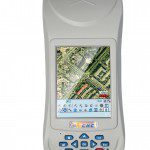 Monday, June 25th, 2012
CHC introduces the LT400, a compact, rugged and cost-effective handheld submeter real-time GPS receiver for GIS and Mapping Professionals. The LT400 is the ideal GIS hardware solution ready for use with third-party GIS software applications answering to...
Wednesday, June 20th, 2012
SuperGeo officially upgraded and launched the task-oriented mobile GIS software, SuperField 3.1. Compared with SuperPad 3.1, the full-function GIS software containing diverse GIS tools and functions, SuperField 3.1 is especially designed for field workers who only require...