If you're into web-based maps like Google's to track your travels across the globe, or if you've participated in a crowd-sourcing project to report a bribe, then you're already familiar with uploading photos and other...
Thursday, February 21st, 2013
Cutting-edge mapping technology is being used to tackle child obesity in South Australia by pinpointing communities across the state with poorer health outcomes. The Geographic Information...
Wednesday, February 20th, 2013
The United Nations Economic and Social Commission for Asia and the Pacific (ESCAP) and the United Nations Institute for Training and Research (UNITAR) are joining forces to provide better and more comprehensive satellite imagery to countries in...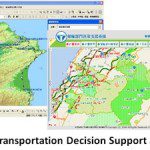 Wednesday, February 20th, 2013
Nowadays, transportation system plays an important role in providing quality services related to different modes of transport and traffic management. By combining the use of GIS, the public could be better informed and...
Wednesday, February 20th, 2013
Using the invaluable and free Landsat archives and SRTM elevation data from the USGS and NASA, GeoSage has developed a refined version of the 30m-resolution global satellite imagery mosaic, featuring a unique mapping style with 3D texture...