Wednesday, February 25th, 2015
Feb. 25, 2015—Eternix Ltd., leading provider of next-generation software for GIS visualization and editing in 3D, releases its first WAMI extension, enabling Blaze Terra users to access WAMI data through cloud-based services. WAMI stands for Wide Area Motion Imagery...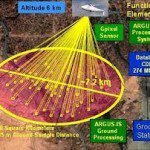 Thursday, June 26th, 2014
Wide Area Motion Imagery (WAMI) is a growing data source in the geospatial intelligence arena. By persistent and precise surveillance, WAMI sensors offer unprecedented situational awareness as they allow for going back in time to understand and...