Monday, September 7th, 2015
Sept. 7, 2015—Outstanding uses of the Australian Government's NationalMap were on show at the GovHack 2015 awards. The map is a powerful browser-based visualisation tool that provides easy access to a wealth of government geospatial data. This...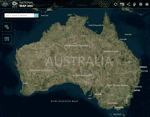 Thursday, July 10th, 2014
Australia has launched a new National Map that is a joint effort between the Department of Communications, NICTA and Geoscience Australia. The map provides access to Australian spatial data from various government agencies, and is designed to...