Wednesday, June 6th, 2012
At the Hexagon 2012 conference, Intergraph is demonstrating a new technology that enables you to fully leverage the wealth of information in point cloud data. The centerpiece of the new functionality is the augmented viewing capability embedded...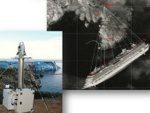 Wednesday, February 8th, 2012
The Hexagon year-end report for 2011 just came out, and there is a recorded webinar with slides and an overview from Ola Rollen, president and CEO, that is available online. Overall, the year was a good...
Wednesday, September 21st, 2011
Hexagon has entered into an exclusive industry partnership with Locata Corporation Pty Ltd to integrate the revolutionary Locata positioning technology with Hexagon's positioning receivers. This collaboration will leverage each company's expertise to create the world's first...

Thursday, May 19th, 2011
Hexagon has been steadily amassing a fully-integrated geospatial technology company, and took a large leap forward with this vision this past fall with the addition of Intergraph. As the company gets ready to host the Hexagon 2011...