Wednesday, March 9th, 2011
The picture of Southeast Asia's deforestation is coming into greater focus. Scientists have developed a new satellite-imaging technique that allows them to have a better bird's eye view of when carbon-rich peatlands were cleared and to what...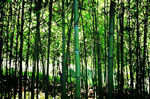 Thursday, February 3rd, 2011
In this International Year of Forests, much focus is being places on the health of forests and the services that they perform for the environment, biodiversity and the economy. Asia has been a global leader in forest...